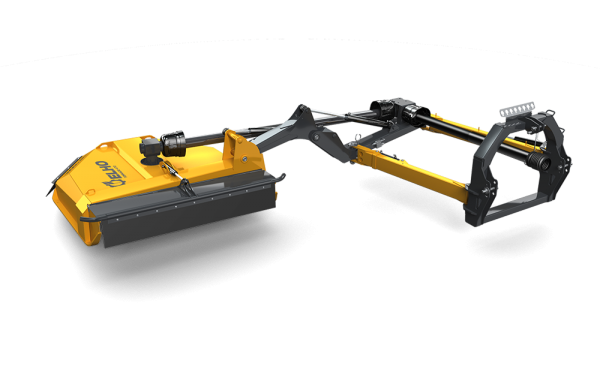 Description

A mulcher with smart tilt!

The brand-new ELHO Tornado 470 is a mechanical chain mulcher with a maximum reach of 4.7 metres. The machine features a new smart tilt function on the cutting head, which limits the movement of the tilt so that the breakover angles of the secondary shaft remain moderate. This feature protects the PTO shafts, which cannot be operated at excessive angles. In the transport position, the tilt is locked. When lowering the boom, the tile is released the more the boom is lowered. This makes the machine very stable and safe to transport, even at high transport speeds.

When avoiding large trees, for example, the mulcher can be lifted very quickly with one operation and returned to the mulching position after passing the obstacle.

The front hatch opens hydraulically. The cutting head comes as standard with a steel disc that works as a flywheel and prevents the chains from hitting the casing.

The length of the chains is 1.8 metres, providing a sufficient cutting width and power for even the most demanding tasks.
Properties

The design of the frame structure offers excellent visibility to the implement. The strong, durable structure provides extensive reach

Hydraulic impact protection

Wide and heavy-duty side shift. Side shift 1.8 m.

3-point linkage redesigned in 2020
Technical details

Tractor power requirment, min/max, kW*

Minimum recommended tractor weight, kg*

Mulcher unit tilt (up/down)

Hydraulic pressure, min/max bar

Hydraulic coupling, single action

Hydraulic coupling, double action
Downloads
Images
Video