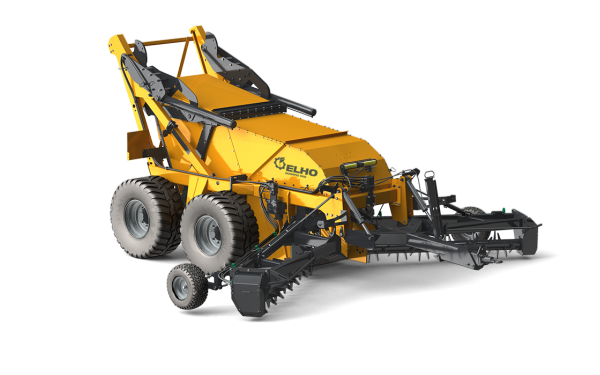 Description

The ELHO Scorpio 550 collects stones efficiently!

Picking stones is tough work. Whether you are a farmer of contractor, stone picking has to be timed in between other tasks – usually before ploughing or after harvesting.

The ELHO Scorpio 550 stone picker is equipped with unique solutions that make it easy to remove stones from fields.

One of the key features of the Scorpio 550 is fully hydraulic drive. The hydraulic flow is 85 litres/minute, which is achieved with 110-150 bar. The hydraulic drive is designed for use with a tractor's normal dual-function hydraulic coupling and a nominal pump size of 110 l/min. The maximum continuous use is 24 kW, and the tractor's own cooler keeps the oil temperature optimal.

Automatic depth adjustment enables the machine to follow the surface of the ground with a constant working pressure. This makes it easy and pleasant to operate the machine, even in extremely dusty conditions.

The hydraulic system can temporarily increase pressure to the second pickup motor when needed, and the lifting force at the end of the tines is 700 kg.

Sturdy Hardox 500 tines can rotate at higher speeds than traditional steel spring tines. The higher rotation speed improves sieving and soil removal, and it also breaks up organic materials better. The diameter of the picker is 1.8 metres and rotates at 80 r/min, while the tines rotate at 125 r/min.

The Hardox 500 tines have rubber bushings, allowing the sieve steel bars to flex laterally. All of the tines flex backwards and lift out of the sieve to prevent blockages. The maximum tine flex is 500 mm.

 
Addons

Hydraulic unit

Screen for smaller stones

Towing eye K80
Properties

External features

All hopper components are bolted and replaceable
Tipping height up to 2.7 metres
Large hopper capacity of up to 2 cubic metres
Sturdy support structure bolted throughout, making replacements easy
Large 560/60 R22.5 bogie wheels
Large rake wheels that turn with the machine and are easily replaceable

External features

Automatic depth adjustment according to rotation resistance
Telescopic drawbar with collision guard, raises machine when overloaded and returns automatically
Wide and sturdy drawbar offers good visibility to the stone picker
Towbar is bolted to the drawbar
Hydraulic drive

Internal features

Lifting tines

Large and durable lifting tines have internal rotor bearings that are protected from dirt
Wide lifting tines are made of Hardox steel and are firmly welded onto the rotor tube
Triangular rake tines with longer welds designed to prevent stones from flying over the rotor tube
Large and open structure prevents blockage
Protected hydraulic drive
Lift cylinder protected from stones
Pickup rotor can be reversed
Lifting force of tines 700 kg

Hydraulics

Hydraulic drive system can temporarily increase pressure for the tine motor
Hydraulic drive prevents overloading, breakage and wear, even in case of blockage

Internal features

Stone picker

Large and sturdy lifting tines
Lifting tines are flexible in all directions
Large flange bearings
Lifting force of tines 400 kg
Maximum tine flex 500 mm
Pickup rotor can be reversed
Aggressive picking breaks up soil, improving sieving

Hopper

Critical hopper components made of Hardox steel
Large sieve at rear of hopper

Internal features

Sieve / ground blade

Each steel bar in the sieve can be individually replaced
Easy to change screen size
Every other sieve steel bar can be removed – the distance between the sieve bars can be 30, 40, 100 or 110 mm
Every other sieve steel bar is elevated
Rubber bushings at rear attachment points allow sieve steel bars to flex laterally
Ground blade made of Hardox steel
Sieve steel bars made of Hardox and Imacro M steel

1 / 5
2 / 5
3 / 5
4 / 5
5 / 5
Technical details

Tractor power requirment, min/max, kW*

Minimum recommended tractor hydraulic pump size, l/min

Hydraulic flow max, l/min

Hydraulic coupling, single action

Hydraulic coupling, double action

Pick-up lifting tines, pcs

Pick-up tine lifting force, kg

Pick-up tine flex up from screen, mm
Downloads
Images
Video